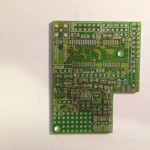 I assume you know a little bit who I am and what I'm doing, I'm not the one to by > 100€ to buy a one shot development board kit to test & hack a device like the Telecom Design chip. So basically I built my own with the objective to work with multiple configuration.
My "cahier des charges" was to make a board able to be installed as a dauther board on a raspberry PI,  able to support an arduino, able to run autonomously and being able to own a TD1204 as a TD1208.
It was a huge work to route it and I must recognize that it do not have all the GPIO connected as I expected but it exists, it works and it help me to build my first SigFox prototypes with success.
So, now, I propose to distribute this board to those of you looking for a such swiss knife.