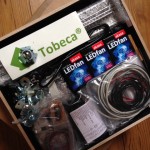 The Tobeca 2 is a French and Open Source 3dPrinter. THis printer is delivered in a kit (you can also ask to get it built for a higher price) The price of the printer is about 700€ + 100€ for the dual head option I chosen.
So I'll publish some post in the next days to detail the installation. My time is really short these week, so it could be long before I finish it. By-the-way if you have one to build of you want to buy one, I hope these notes based on my experience will help you.
Finally, I spent about 16 hours to mount the printer and a couple more to get my first print!